WAR OF WIZARDS VERSION 2.0 - RULES
War of Wizards - Copyright WoW Games 1996-2005
War of Wizards was designed, created and programmed by David Harris and Chris Horn
These rules should be viewed in conjunction with the mail information page. That page contains all the information on how to syntactically use the commands within the emails that you send. It also has detailed information on how to send other types of requests to the mail server.
All corrections/clarification suggestions should be sent to harry@wow.pbemgame.com.
Updated 5th June 2004
Updated information about AI.
Updated 19th March 2002
Winter movement correction.
The Rules In Text Format
---
---
1. Introduction
War of Wizards 2.0 is a fantasy strategy game that allows players to set their own objectives. However players must increase their power base to survive. The player may choose whether this is done by researching magic, building armies or developing resources. Diplomacy is a vital part of the game as communication and cooperation to exploit another player's weakness can be very advantageous.

The rules below are designed to be an outline to get the player started. Most game mechanics will become clear once the player begins playing.

The rules are basically in three sections. Firstly there is a section describing the general principles of the game. This will be followed by a section detailing the specific commands used in the game and a sample turn report. The third section contains race and city descriptions.

2. The World
The map on which War of Wizards (WOW) is played consists of many types of terrain and holds many special sites such as towers, caves and graveyards.

The world is divided into 3 planes: Astral, Ground and Underworld. The Astral plane is located somewhere well above ground level. It is a land made up of strange colours, plants and animals. The Ground Plane is the surface world, made up of a variety of terrain types, such as forest, ocean and mountains. The Underworld is found deep below the surface world and consists of dark tunnels and caverns.

2.1 REGIONS
The map is divided into a number of regions, depending on the world being played. The world mainly consists of land but also has sections of ocean. Each region consists of a single terrain type and hosts a single race. Each region is further divided into 5 shires organised as in the diagram below. Note that the central shire (5) only connects to the other shires in the region but the 'outer' shires will connect to other regions (with the exception of connections from and to Underworld and Astral Plane).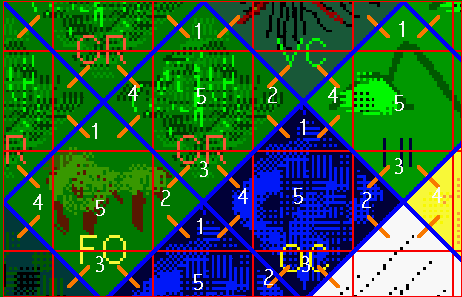 2.2 SHIRES
The shire is the basic unit of area in the game. Each shire contains a population of peasants (of a certain race) and various resources. If you control a shire, you can use the shire's peasants to produce resources, which can then be used for a variety of purposes, such as erecting buildings or raising armies.
2.3 SPECIAL FEATURES
In each shire there may also be special places which may be entered. These include sites such as graveyards and structures such as towers. Special places may only be entered by special units known as "Heroes". Only one hero can attempt to enter a special place each turn (a hero is randomly picked if more than one player issues the EXPLORE order). A hero must be standing at ground level (or on a boat in the case of an ocean shire) to explore a special place. Each special place has a challenge associated with it, which the hero must beat to explore and conquer the structure. Each challenge requires a particular hero skill.
The challenges can be divided into Combat (Offence and Defense), Puzzle (Intelligence), Guardian (Stealth), Trap (Awareness) and Obstacle (Dexterity). Once the challenge is beaten the hero will be rewarded with resources and possibly an artifact. Artifacts are objects carried by the hero, which may improve the heros' abilities, possess various other functions. Five objects (the Spirit Lava, Spirit Smoke, Spirit Sponge, Spirit Root and Saint Relics) are required for certain magic spells to be cast. These will often be replenished when the hero leaves the site, so each wizard may end up with more than one and valuable spares to trade with other players.
After a hero has successfully explored a special place, it may add an extra region exit to a new shire - for example, an explored cave may permanently add a link to an Underworld region.
Special Places are also the lairs for various wandering monsters. They will breed in the special place before venturing out into the world and attacking all they meet. Once a special place is conquered, it no longer produces wandering monsters. Upon entering a special place, all creatures inside will rush out and attack, so be ready.
Random Events can also take place in shires. Random events can be either good or bad. Some of the bad random events can be countered, by building certain buildings, while others cannot. You will discover these during the course of the game. The events that can be countered will tell you which buildings are required to stop them. Most of these random events are localised to certain land types - for example, Volcanic Eruption will only occur in regions that are classified as Volcanic.
2.4 ENDING THE GAME
The game ends when only one player remains, all remaining players are allied and agree to a draw or all players not involved in an victory declaring alliance, concede defeat. All remaining players are declared winners and enter the WoW Hall of Fame. Each player is vanquished from the world as soon as their castle is defeated by enemy units. As soon as a player's castle is defeated, the castle is razed, and the shire becomes a town. Any city only buildings will also be automatically destroyed.
When an enemy city is conquered, the sole victor will claim half of the loser's accumulated resources as spoils, a dual victory will yield a third of the resources to each victor, and if there were three wizards involved each will receive just a quarter share. The loser escapes with their spell book and artifacts, so accumulating magic from another wizard is not possible. Upon being vanquished a player will get one last turn report, after which they will cease to be sent. The rankings table will then list them as vanquished and the turn number in which they were defeated. When that player is vanquished all the shires that were once controlled revert back to being uncontrolled and the wizard's units are disbanded.
There are three ways in which a wizard can be vanquished.
Players directly attack a wizards city and win.
By an enemy wizard casting the "Armageddon Spell".
Summoned monsters that directly attack your city. (Most powerful is the Dark Lord).
There are of course ways to defend from being vanquished. Keep all this information in mind whilst building cities and researchig magic. To protect against the various types of defeat, keep in mind the following.
Always try to keep a couple of heroes in the city to help defend it. Keep a decent army in the city at all times to protect against attacks. Build defensive city buildings such as WALL, TURRETS and MOAT, and upgrade your castle. Each building can increases the defensive and offensive strengths of your units inside the city.
There is only one way to protect against the Armageddon spell and that is with the "Ultimate Shield". Not only do you have to research the spell and recast it every turn -using the order @cast ush -, but you'll need to have built the Anti Magic Wall in the region.
There are a few defences to counter Dark Lord Attacks. The first is having lots of archers in the city. They seem to have the best effect. Some people prefer other methods, so ask around. Basically make sure there is a large army in the city. The second is to prevent the Dark Lord from arriving in the city. This can be done by shielding the city with either the "Anti Magic Wall" spell or the more powerful "Ultimate Shield", both spells require the Anti Magic Wall building to be built. The Anti Magic Wall spell and building require certain levels in the Sorcery and Construct disciplines of magic.
3. Producing Resources
Resources are the cornerstone of the game. The more resources you have the more you can do. You gain resources by controlling shires and using the peasants in them (if they are happy enough or enslaved) to produce resources.
3.1 CONTROL
A shire is uncontrolled until a wizard issues the order to take CONTROL of a shire. To do this the wizard must have at least one unit in the shire (which must be on the ground, not Tunneling or flying and may not be a charmed wandering monster). A player will lose control of a shire if, at the end of a turn, they do not have at least one unit in the shire. This shire then reverts to uncontrolled. So be careful of leaving at least 1 unit when ordering troops to move out of a shire you control, or make sure replacement units move in during the same turn! If two or more allied wizards issue the order simultaneously one randomly selected wizard will take control and the others will back down. Once a shire is under a wizard's control the wizard may tax its peasants and use them to PRODUCE the shire's resources or BUILD in central shires. The wizard now also has the responsibility of feeding the shire's population. A wizard can feed peasants anywhere between 0 and 5 food units using the FEED command. FEED 0 will cause some peasants to starve to death and morale to drop. Feeding peasants more food will make them happier, increasing birth-rate that turn, and possibly morale, which has benefits listed later.
3.2 PEASANTS
Each shire under your control will contain a certain number of peasants. Peasants will work the land for you and allow you to make use of the shire's resources. Peasants may also be taxed and thus are a valuable source of income. Each turn, each peasant may either PRODUCE some of the shire's resources or, if they are in the player's capital city or in a central shire, they may BUILD structures. If a large battle takes place in a shire, peasants may stay inside and not PRODUCE or BUILD at all during that turn. Peasants will also pay taxes each turn. The number of gold coins paid by each peasant in a region is dependent on their morale and the tax rate.
The Gold per Peasant base rate is determined by morale, and is then multiplied by the tax rate modifier. The result of this multiplication is shown in the table below. The value is then multiplied by the number of peasants in the shire. This will be the amount of gold you will receive that turn from that shire.


TAX CALCULATIONS BASED ON MORALE.
MORALE
PRODUCE OR BUILD
GOLD PER PEASANT BASE RATE
TAX
NONE = 0
TAX
LOW = 0.5
TAX
MEDIUM = 1
TAX
HIGH = 1.5
0.00 - 1.00
If Enslaved
0
0
0
0
0
1.01 - 1.99
Yes
0
0
0
0
0
2.00 - 2.99
Yes
1
0
0.5
1
1.5
3.00 - 3.99
Yes
2
0
1.0
2
3
4.00 - 4.99
Yes
3
0
1.5
3
4.5
5.00
Yes
5
0
2.5
5
7.5


Adding all these shire tax values up for each of your controlled shires will give the amount of tax that you will receive for that turn.

The peasant morale in each shire represents how happy the peasants are with their conditions. It is always a value between 0 (rebellious) and 5 (happy). Morale will rise and fall depending on how much food each peasant receives per turn, certain buildings (WARNING: Sacrificial Altar will dramatically reduce local and global morale), the tax rate (morale increases with no tax and varies accordingly with rates low to high) and the number of people killed that turn in battles inside the shire. As shown in the above table morale affects the amount of tax collected. If morale drops to below 2 in a shire the peasants will pay no tax. If the morale drops to 1 or the peasants will rebel. You may not recruit any rebelling peasants as units. They will refuse to PRODUCE resources, be RECRUITed into armies or BUILD structures. The only way peasants with morale of 1 or lower will PRODUCE, be RECRUITed or BUILD is if the player enslaves them.

To use the ENSLAVE order the player must have 1 point of unit offence for every 5 peasants. E.g. to enslave a shire containing 100 peasants, the player would need to have 20 militia (offence 1) or 3 Storm Giants (offence 7) in the shire. Enslaved peasants will work but still pay no taxes. The peasants will revert to normal if the FREE order is issued or if the amount of unit offence drops below the required level. Enslaved units will be morale zero on being freed. Slaves require only half as much food, so only half the amount of the set feed rate will be deducted from the controller's stocks. As soon as you enslave the population the morale drops to zero, so population growth is reduced.


3.3 PRODUCTION/RESOURCES
Each shire you control will have a list of resources, listed as (Wood:4 Food:3). This represents the types of things which may be produced and how much may be produced (a value between 0 and 5). The number represents how much may be produced by a single peasant in 1 turn, in that particular shire. For example, if 20 peasants are assigned to producing wood given the above productivity ratings, then 80 units of wood would be harvested that turn. The resources of each shire will generally be related to the type of shire - a forest shire may have lots of wood, while a mountain shire may be rich in iron.

Some ships can fish the oceans. These ships will fish automatically if they are located in an OCEAN shire that the ship's owner currently controls. The ocean shire's food rating is multiplied by the ship's fishing capability value. No seasonal adjustments apply to fishing vessels.

Production of resources is carried out through the PRODUCE order. Default production is also carried out with all remaining peasants. Food or if no food is present the most abundant resource in a particular shire will be produced by default unless a default production resource is set by the player. The abbreviations for the resources found in the game are shown below.

TABLE OF RESOURCES
RESOURCE
ABBREVIATION
USE
Gold

GLD

Used as the lands currency.
Food

FOD

Used for feeding peasants and soldiers.
Wood

WOD

Used for making troops and buildings.
Stone

STN

Used for building.
Gems

GEM

Used in magical spells.
Iron

IRN

Used in making troops.
Mithril

MIT

Used in making superior troops.
NOTE: Once a resource has been produced it is automatically transferred to the player's global stock and may be used in any of the player's controlled shires. This transfer happens instantly so that once production has occurred (See Order of Events), these resources may be used anywhere in the players empire. Any resources used will be deducted from this global stock of resources which will never be allowed to drop below 0 units of any particular resource.
3.4 CARAVANS
Every now and again a caravan will appear in your city. That caravan will have resources on offer for buying or selling. The caravan will stay in the city for 1 turn only so you have to buy and sell quickly. To buy and sell, see the city orders BUY and SELL.
3.5 SEASONS
As the seasons change in the game the amount of food and wood production will change. There are the four standard seasons with three turns per season. These effects only apply to land based production of food and wood. Outlined below is the effect each season has on food and wood production.

SEASONAL ADJUSTMENT TO FOOD AND WOOD PRODUCTION

| SEASON | FOOD PRODUCTION EFFECT | WOOD PRODUCTION EFFECT |
| --- | --- | --- |
| Summer | 10% | 10% |
| Autumn | 20% | 0% |
| Winter | -20% | -10% |
| Spring | 5% | 0% |
Winter also slows down movement (on the surface world only, including travel within ocean regions, not including flying or tunneling on the surface world) adding 1mp to the standard cost of moving.
Note that each turn report will contain a statement similar to the one below:
The season is currently Winter and will remain so next turn.
The season is currently Autumn and will change to Winter next turn.
The change to a new season occurs at the beginning of the next turn, so the orders that you send in should be based on the new season's production changes. Thus if your turn report contained the second message above, you should use the Winter production modifiers for your next turn, not Autumn. Each year consists of twelve months, with the new year beginning at the start of each spring.

4. Buildings
You will begin the game as a wizard controlling a single shire. This shire will contain a city, which will be the capital of your empire. The city will have a large peasant population and will contain all your starting units. The city will also contain your castle (a base from which you command your forces) and a town hall. Your first turn report will list the buildings you can construct in your city, along with their cost in Gold and Resources.

With the building of some structures your wizard will then be able to construct other, more advanced structures (you can construct a building and it's prerequisite building in the same turn). There are well over twenty types of buildings available in WOW 2.0. Once a building has been erected the wizard will learn its function. As with many parts of the game the actual bonus of having each building will only be revealed once the player has it. In general though, buildings will allow new types of units to be created or give an increase in research points, peasant morale and/or resource production.

Some structures are "city only". These structures may only be built in the player's capital city. Players may not build these structures in any city or town other than their own capital.

Only one of any type of structure can be built within a single central shire, no matter whether it is a capital city or a town.

It is also important to note that some buildings are race specific, in that only some races can obtain these buildings. This only applies to some of the city only buildings.

Another aspect of a player's city is their castle. Castles can be upgraded in size from level 1, which is its initial size, up to level 5. Castles offer protection to the city's armies giving defensive and sometimes offensive bonuses to the units inside. Some of the higher level castles also allow advanced units to be recruited.

4.1 TOWNS
If a wizard's city is conquered it becomes a town under the conquering player's control and the castle is destroyed. Players may also build towns in the central shire (shire 5) of any region as soon as they have taken control of that shire (this may also be in the same turn as you move into the shire). This is done by getting the peasants to BUILD a town hall. Once the town hall is built several troop and further building types will become available.

4.2 GLOBAL OR LOCAL INCREASES
In the building function description on the turn report, it will state if there are any global or local increases. The increase will be for either particular resources produced or an increase in morale. Global refers to a slight increase in every shire you control, each turn. Local refers to a slight increase in each shire under the wizard's control (but not allies) within the region that the building is built.

4.3 INFORMATION ON BUILDING.
To construct buildings the BUILD order is used. Each peasant may erect 1 unit of wood, stone, iron, gem or mithril per turn.

For example, a Blacksmith (cost 800 gold, 200 wood, 200 stone) can be built in 1 turn by 400 peasants or 8 turns by 50 peasants. To issue the BUILD order you must have enough gold to pay for the entire building, and enough of the particular resource you wish to add to the buildings development for that turn. The gold is used on the first turn the BUILD order is issued. Other resources are subtracted from the player's global resources as the peasants use it. If you do not have the required number of peasants to erect the requested resources to a building that turn, the maximum available peasants are used. Building always overrules production when peasants are ordered to try and do both. The effect of buildings will only take place once all resources have been built onto the building. Buildings do not require upkeep to be maintained.

4.4 STARTING BUILDINGS
Each player will begin with a Castle in their home city and a Town Hall. The player's first turn report will list what further structures may be built.

5. Units
A unit is any creature under the player's control other than peasants. Each unit will have an offence and a defence score which represents its strength in combat. Each unit will also have a cost per turn in maintaining it. This will be a certain amount of food and gold for normal units, a certain amount of gold in the case of heroes or a certain number of gems in the case of enchanted units. All maintenance costs are automatically subtracted from the player's city resources at the end of the Feed Order but before the Feed Event. Units will have 33% of their number disbanded if there is insufficient resources for their maintenance.

NOTE: The term unit refers to a single soldier in this game. Hence a shire with 80 Axemen in it has 80 units and will require 80 times the maintenance cost of one Axeman. The turn report will list the types of units which can be created by the player. The types of normal units (any units other than summoned or undead) available depends on the presence of certain buildings in the capital city or town. Each new unit created will have a cost in gold, wood, iron and/or mithril associated with it. Units are created by using the RECRUIT command. Each recruited unit (1 military person) causes the number of peasants in the city to be reduced by one. A maximum of 20% of a shire's peasant population may be recruited in any one turn (this maximum may be increased by certain buildings). This maximum appears in brackets after the total population in the turn report. If you attempt to recruit more units than allowed, the program will take the maximum amount available. Ships require one peasant per crew member while mounted and other unit types only require 1. There is a basic list of units which will be initially available to most players. These are Militia and Spearmen or a variation of these depending on the starting race. Other unit types will become available as the game progresses through the completion of various buildings.

5.1 STARTING UNITS
Each player will begin the game with a set number of basic units. The unit type will be decided by the starting race and city of the player


5.2 HEROES
Heroes are the individual champions of each wizard. They may lead armies, explore structures or use their special abilities for the greater glory of their lord. Each hero has a range of attributes, each initially ranked from 1 (hopeless) to 10 (awesome). The attributes are:
HERO ATTRIBUTES

| | |
| --- | --- |
| ATTRIBUTE. | DESCRIPTION. |
| OFFENCE * | Attacking strength in combat. |
| DEFENCE * | Avoiding harm in combat. |
| ATTACKS * | The number of attacks the hero has each turn. |
| HIT POINTS * | Number of direct hits to be taken before hero will die. |
| AWARENESS * | Ability to detect traps and hiding enemy heroes. |
| STEALTH * | Ability to pass undetected. |
| INTELLIGENCE * | Used for solving puzzles. |
| DEXTERITY * | Used for avoiding undesirable obstacles. |
| LEADERSHIP * | Effect of the hero on allied units in combat. |
| SPELLCRAFT * | The degree of skill the hero possesses with the magic arts. The higher a hero's spellcraft, the more powerful the combat spells they are able to cast. |
| RESEARCH ABILITY * | The number of research points the hero generates each turn. |
| UNIT TYPE OFFENCE BONUS | Some Heroes can give an offence bonus to certain unit types. For example, a Knight gives a bonus to all mounted troops under his command. |
| UNIT TYPE DEFENCE BONUS | Similar to Unit Type Offence Bonus. |
| LAND OFFENCE BONUS | Some Heroes will give all units fighting on particular ground a bonus. For example, a Ranger may give a bonus to all units under his command when fighting in forest. |
| LAND DEFENCE BONUS | Similar to Land Offence Bonus |
| SPECIAL | Some heroes will be able to offer some sort of special skill. |
| COST | The price to recruit the hero. |
| MAINTENANCE | The price of the hero's services per turn. This increases with level but a turn's warning is given. |
Note: * Means that the ability can increase above its original level with experience and also possibly with artifacts.

Heroes are the leaders of your armies. Although you can move units about the world and fight battles without a hero's leadership, there are compelling advantages to forming an army. All units in a hero's army receive the bonuses bestowed by that hero - a Ranger hero may increase the army's' defence when fighting in Forest. Heroes are also the tools used by wizard's to cast spells out in the battlefield. All heroes may have a spell set for the wizard to cast through them every time they enter combat (for example Fireball). The wizard can also cast spells that will affect their whole hero's army - casting Teleport will move the hero and their entire army to the desired destination. The TRANSFER command joins units to a heros' army. Armies move together so only a single command needs to be issued to move the hero - the entire army will move as well. Each hero will already have a small army when hired. These units are not recruited from the local population and come completely free. The army will stop moving as soon as any member of the army runs out of movement points.

Heroes will gain experience and improve their abilities as they serve a wizard. They will gain experience points for personal combat, leading armies into battles, casting spells and conquering special places. The number of experience points gained is related to the difficulty of their endeavours. Heroes can also gain experience from dueling. Two heroes must be in the same shire, and have the same owner or allied owners. One player only issues the order. The two heroes then duel, and gain experience in the process. The losing hero does not die. Heroes can only perform one special action per turn whether it is dueling, exploring, moving, etc.

Some heroes have the special ability to MOVE or ATTACK (the two commands are the same in this case) unseen into enemy/allied territory. These heroes known as espionage heroes, are not blocked by the presence of enemy units. There is a chance that an espionage hero will be discovered when in enemy controlled shires. The chance of being discovered is determined by the espionage hero's stealth, present enemy heroes' awareness and the number of normal units in the shire. Heroes remaining unseen in enemy territory receive bonus experience points. If discovered a battle will automatically take place. Espionage heroes cannot control shires or attack enemies without an army and are not counted as a presence for spells which require this.

Heroes are offered in the player's city every now and again. This is random but chances may be increased by holding a TOURNAMENT. These heroes that are offered can be recruited during the next turn by using the HIRE order. Note that these heroes are on offer for one turn only. Once a hero has been recruited the hero can have their name set, using the NAMEHERO order. To get current information on the hero, such as experience, artifacts, and numerous other attributes, the INFO order can be used. Note that all these three orders can be processed in one turn. e.g. HIRE 22 HERO, NAMEHERO 22 "Hand of Death", INFO 22 HERO.

5.3 ARTIFACTS
During the course of the game, heroes are likely to acquire certain artifacts. Each artifact has certain abilities and can increase the Hero's attributes significantly. However it is not realistic for a hero to have three magic swords and get the combined total. The hero can only wield one weapon at a time. A hero can carry as many artifacts as they like but they will only use the best available of each artifact type.

Each artifact is classified as a particular type. The hero can have one of each of these artifact types in effect at any one time. The heroes may of course carry others in their saddle bags.

The different types of artifacts are:
Armour
Boots
Gloves
Helm
Shield
Weapon
Miscellaneous
When you get info on an artifact it will mention what type of artifact it is. The one other artifact type is Miscellaneous. You can have as many of these as you like in effect at any one time. They are usually magical objects that are used in spell casting or in various other capacities.
5.4 SHIPS
All towns and cities situated in a region that has an exit to an ocean region can build ships, once they have built docks. There are three basic classes of ships, but some ship types may fall into more than one class at once. The classes are transport, fishing, and war.
Transport ships can carry units and heroes from one location to another. The TRANSFER order is used to get heroes and units on and off ships. You may also transport allied units.
Fishing ships will automatically fish whenever they are in an ocean shire that they control.
War ships are designed just for war and are good at protecting your transport and fishing ships.
A ship is constructed using the CONSTRUCT order. Constructing a ship will reduce the town's population as peasants are used for crew. The ships can be named using the NAMESHIP order. To get further information on the ship itself use the INFO order.
 The maintenance cost for a ship may be calculated in the following manner;
 * GOLD	Maintenance for a ship is 10% of the construction cost.
 * Food	Maintenance is one food	for each member of the crew.
 * 5% of other construction resources are required to maintain the ship.
 
The turn after a ship has been constructed you will receive the specific ship number which can be used to move the ship or transfer units on or off the ship. A ship can move across shires of the region type ocean and into or out of coastal shires. A ship's movement ends after moving into a coastal shire. A ship can not move from one coastal shire to another coastal shire, it may only move from ocean shires to coastal shires or vice versa.
Note that you will gain access to more ship types as you build more buildings in the docks' shire.
5.5 APPRENTICES
Apprentices may be recruited like any other unit, once the proper structure is built. Apprentices cost a large number of gold coins per turn in maintenance. Each apprentice increases the number of Research Points (see magic section) produced per turn by 1. Players may recruit as many apprentices as they can afford to, once they become available. Apprentices can move around the world like any other unit.
5.6 BUILDERS
Builders may be recruited like any other unit. Builders can build 3 resources (like 3 peasants) to any unfinished building when they are placed in a central shire. Builders will always be used before peasants to BUILD structures. Builders can not PRODUCE. Players may recruit as many builders as they can afford to, once they become available, but keep in mind that they require WOD and STN for maintenance.
6. Movement
Units and armies move about the world with the use of two types of commands: Move and Attack. The formats for these commands are discussed in the ORDERS section. Each terrain type requires a certain number of movement points (MP) to leave a shire (For example, Mountain costs 3 MP while Grassland costs 1. The rest you will find out during the game. We don't want to give away all the terrain types now). It costs the same amount of movement points even if a shire exit leads to another plane (ie. to the Underworld). Certain units will be able to move more easily (such as flying units). Details of these will also be revealed during the course of the game.
Note: units that move into a location using the attack command will only be able to move again that turn if the shire they issued the attack command on was unoccupied. Once a unit is involved in a battle, it will not move any further during that turn
All units can attempt to move from one shire to an adjacent shire (all adjacent shires will be listed in your turn report). If a unit has movement points remaining and if the first shire moved into is not occupied by hostile units it may continue to move. A player may only move units through a shire if it is controlled by him/herself, by a wizard with whom the player has an alliance, or if there are no unfriendly units present. This means that you are unable to move/attack out of shires if there are enemy units present and you are not in control of the shire, even if you started in that shire that same turn. So when setting ALLY NO you may not be able to move out. Also note that you will never be able to move all your units out of your city as this would result in your losing the game.
A note on movement points. All units with one or more movement points remaining may leave the shire they are currently in. When they arrive the movement cost of that move is deducted from their movement point total. If this results in a score of zero or less, they can move no further. The movement costs depend on four factors; the current season (add 1 MP during winter), the presence of PATHS or ROADS, the terrain type and any spells that are in effect. The movement cost of the land type you are moving from is reduced to 1 MP if there are ROADS built in this region. This applies only to all units moving from a ground location. All other move types (flying, tunneling) cost only 1 MP per shire.
In all the movement type orders, MOVE,ATTACK,FLYMOVE, ... the following guidelines apply. All multiple moves of units must take place as one order, starting at the location where the units reside. For example, you may not move a unit from shire one to shire two, in the shire one orders section, and then in the shire two orders try to move that unit to shire three. This will not work because at the time of processing the order the program checks that the unit does exist at this location. As all the actual moves are processed at a later date, the check will report that the specified units do not actually exist at shire two yet. To perform this example move, one must make the move a multiple destination move, listed under shire one.
To move to other regions you have to be in the shires 1, 2, 3, or 4 (Shire 5 can connect to other regions only on another plane. E.g., Underworld or Astral Plane). From each of these locations you will be given a list of connecting regions, if any exist. The map is basically symmetrical (other than the World of Varlania) but there are several special links which do not fit this pattern. This makes exploring and travelling that much more of a challenge and allows for a vast variety of possible unit moves. Below is a sample section of a world map.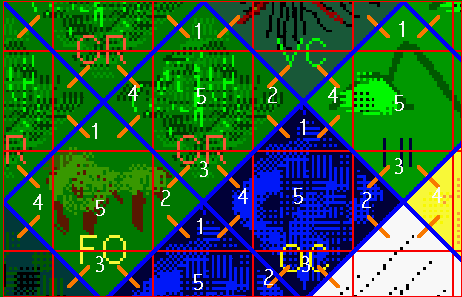 A few points worth noting. Notice that the shires inside every region are identically organised. Also note that not every shire connects to another region. A shire numbered 1, 2, 3 or 4 will usually connect to two other regions (but may connect to zero, one or even more than two other regions in some circumstances). Finally, all troops can always move at least one shire per turn, or perform at least one state change (To Flying State, To Underground State or To Ground).
6.1 MOVEMENT TYPES
There are 3 different movement types for units: Ground, Flying and Tunnelling. Ground level movement is further divided into boat, land and water movement.
Ground Units are the standard unit. They use movement points every time they leave a shire until they reach 0 movement points, after which time they can not move until the next turn. Flying and Tunnelling units may act as land units using the MOVE command but also have the addition of the FLYMOVE/TUNNELMOVE commands. Note that you can take off/tunnel and ground in the same turn, however you cannot do the opposite. The air, ground and underground are treated as three separate areas and units in any of the three areas do not interact with units in the other two. While flying or tunneling, units only use one movement point per shire no matter what the terrain type.
Note that the flying and tunneling units can move in two states e.g., ground and air or underground and ground. The number of movement points that these units start with each turn depends on the movement type performed. If the MOVE or ATTACK orders are used then it is their ground movement value, otherwise they will use their flying/tunnelling movement value as they use the FLYMOVE/TUNNELMOVE related orders. For example, a giant worm that crawls across the ground might get one movement point, but if the worm dug down into the ground and traveled underground, it might get two movement points.
Moving from the ground state to flying/tunnelling or vice versa costs one movement point.
Some special units have the ability to swim in ocean regions and walk on land. These units will have a special attribute called "Water Movement". All normal units will report an error if you try to move them off land and into the ocean, but not these units. They can keep on moving over any terrain type.
The other movement type is naval. Ships can move in any ocean shire or shire that connects to an ocean shire (coast), where some ships may load/unload units. Direct movement from one coast region to another is not possible. Troop carrying ships will have a capacity number mentioned. This capacity is the number of units that can be transported. Foot units count as one while wandering monster, mounted, units with flying or tunneling movement and heroes count as two. All unit types with regard to their load are based on their unit type/battle position attribute and their movement abilities, which can be found in the unit abbreviations part of the report. Some may not seem logical i.e. Sprites count as 2 because they have a flying movement value of more than 0. Catapults are counted as five.
Note if there are any move related orders where the destination is the same as the from location then that move will be ignored and processing of the order will continue, except for FLYING and TUNNELLING move orders, where if the first destination is the same as the current shire, it means that the units are to leave their ground state and enter the FLYING/TUNNELLING state.
Also remember to be wary of wandering monsters, as they can be found Travelling all over the world, and in all planes and states.
6.2 MOVEMENT RULES
The rules of movement. When and how a particular move scenario will work.
TRAVELLING RULES
You can only move from one shire to another if there is a link mentioned on your shire report to that other shire.
You cannot FLY in Underworld regions.
You cannot TUNNEL in Astral Plane regions.
You cannot enter or leave Astral Plane or Underworld regions whilst tunneling or flying.
Ships can only move to and from shires that are ocean or have an exit to an ocean shire (coast). You can not move directly from coast to coast.
Units can only move on ocean shires if they are a ship or have the "Water Movement" attribute. Otherwise they must be placed on ships and to be transported. Units on board a ship do not become involved in combat unless it occurs in a coastal shire. Ships can be used to control coastal shires.
Heroes and their armies do not have the "Water Movement" attribute, and as a result can only be transported across water on board a ship or by magical means.
You may not move your last unit out of the capital as the city requires a garrison (heroes can not be used as a garrison).
MOVE AND ATTACK ORDER RULES
For orders directed to a ship or hero, the ship/hero must be present. For orders directed to units, at least some of the requested unit type must be present. If more units are requested than are present, then the order will move the largest number it can.
The ship/hero/units must have at least one movement point left.
The ship/hero/units may only leave their current location if they are not in a hostile situation (there are no unallied ships, heroes or units at their current location), or if they are in the GROUND state and they or an ally controlled the shire at the beginning of the turn.
EXTRA MOVE ORDER RULES

7. Allies
Generally only one wizard is allowed to have units in a shire. The exception to this is if two or more wizards are allied. In this case they can all move units into a single shire but still only one can control the shire. Allied wizards may always cast spells on each other without being hindered by each other's counter-magic spells. Allied units are also treated as if they are under the control of one wizard when it comes to combat, as they will fight together when attacking or being attacked (with the exception of when a player is allied to wizards on both sides). To be allied both wizards must use the ALLY command. If either wizard does not wish to be allied at any stage, the alliance can be broken by issuing the ALLY command again with the NO parameter. If an alliance is broken a battle will take place in any shared shires.

There will appear a * next to any other player numbers on your reports who you have formed an alliance with. Any wizard on your allies list that does not have this * means that wizard is still as yet to declare you an ally as well.

8. Combat
Combat occurs when units in a shire attack another shire within movement distance. Note that there can actually be up to three battles in one shire (air, ground and Tunnelling), but it is only units on the ground that can CONTROL a shire. Below is a brief summary of how the combats will take place within the game.

All Combat Spells are cast, the order being determined by heroes combined leadership score.

In the first round units are grouped by their Battle Position (Ranged, Flying/Tunnelling, Mounted and Foot Melee). A ranged unit is selected at random (from any side) who will attack an enemy at random. If the attack is successful the enemy dies. This continues until all ranged units on each side have had an attack. The target cannot retaliate to ranged attacks.

Next a Flying/Tunnelling unit (only involved if at the same level as rest of battle i.e., if underground will not be involved in a ground battle) is selected at random (from any side) who attacks a randomly selected enemy (Ranged and Behind units can't be reached yet). If successful, the enemy dies. If not, the enemy retaliates and will kill the original unit if successful. This process continues until every flying/tunnelling unit has had an attack (and may also have retaliated as many times as it has attacks). Some units also have multiple attacks. The same process is repeated for mounted and then foot melee units, after which every unit should have had an attack and Round 1 is complete.

After Round 1 has been completed, all units are in one group for subsequent rounds. So a unit is picked at random from the entire battlefield and attacks an enemy at random. If successful the enemy dies, if not the enemy gets the chance to retaliate. This continues until every unit has used all attacks (and may have retaliated multiple times). After this the same process is repeated for Round 3 and so on.

If one side has a higher combined hero leadership score than the other side/s the first round works slightly differently. All units in each group (ranged, mounted, etc) on the heros' side attacks before the equivalent group on the other side. If the battle is being fought at a city, then the player's wizard provides a leadership score of 10 which is combined with any hero's leadership score. In ocean battles only the admiral, pirate hero or a hero with the "walk on water" spell active may contribute to the leadership total.

Note: Some units (Clerics for example) and heroes are termed behind units. Behind units cannot attack (unless they have a ranged combat value) or be attacked until all other units have been killed. The exception to this rule is if the attack is made by magic. At which point they are as susceptable as other units.

In summary combat proceeds in the order of;

ROUND 1

Heroes Cast Combat Spells
Ranged Units attack.
Ship Units attack
Flying/Tunnelling Units attack.
Mounted Units attack.
Foot Units attack.
Behind Units attack if and only if there were no other units available to fight.

ROUND 2+
All units attack (Units which had ranged attack values use their normal offence value after round 1 is completed and general melee begins).
Behind Units Attack if and only if there are no other units available to fight.


This continues until only one player or one alliance is left alive. After the winning side has been decided, some units may be healed. Healing may be performed by cleric units (each cleric has a 50% chance of healing each of up to 5 units) as well as some special heroes, buildings and artifacts. The order in which they will heal is buildings, heroes, units and artifacts. Ships, heroes and units with multiple hit points are restored to their full value at the end of combat if they have at least one remaining. Units are healed at random from both friendly and allied casualties. No Preference is given to your own or your allies. Neither is preference given to strong over weak units or heroes over units.

We wish to keep most of the combat system as a surprise. You will see how the system works once you go into battle and will soon be able to evaluate your chances of victory. To get yourself into a battle you will either be attacked or you will attack someone else in a surrounding shire by issuing the ATTACK order.

NOTE: Allied wizards will never fight each other. An interesting example to note is that if three wizard are at a site, and wizards one and three are allied to wizard two, but wizards one and three are not allied to each other, a battle will occur between wizards one and three and wizard two will abstain from the fight. However two will participate in the first strike calculations. Often in this case it will mean that everyone gets first stike since they were all able to share information through the one allied wizard.

NOTE: Occasionally border battles will occur. They are only possible when enemies both attempt to cross a shire border. In these situations none of the regular bonuses (defender's bonus and hero's land type bonus) will apply, but hero artifact bonuses will still apply. Border battles may not occur every time as there is a random element involved. However, having increased numbers of scouts amongst the crossing units will increase the chances of a border battle.

9. Magic
Magic will be an important part of any successful player's strategy. The speed and direction of research can make the difference between dominance and self-destruction. Magic is divided into 7 areas of which one area (Druid) is divided into a further 4 areas. Each area has 3 or more levels (this may increase at a later stage), with higher levels allowing more powerful magics. The areas of magic are:
DARK - The study of evil, fear and pain. Combined with Necromancy has some powerful spells.
NECROMANCY - The study of death and the awakening of the dead.
SUMMONING - The study of the spirit world.
SORCERY - The study of magic itself and its relationship with the universe.
CONSTRUCT - The creation of artifacts and of embodiment of power in objects.
WILL - The study of the mind and thought may enable one to control others.
DRUID - The power of magic within nature.

FIRE - The study of the flame and heat.
WATER - The study of the water and life.
EARTH - The study of the soil and plants.
AIR - The study of the wind and moon.
9.1 RESEARCH
Each turn each player will receive a number of research points (RP). Players have a base of 8 RP/turn. This can be increased by hiring apprentices or heroes, constructing certain buildings and finding items in special places such as scrolls. After accumulating sufficient RP (usually turn 4), players may research an area of magic. Players may research as many different areas as they wish, with the only exception being that players who study black (dark and necromancy) magic may not study druidic (fire, water, earth and air) magic and vice versa. The cost to research a level is dependent on the type of magic being researched. It will include a certain amount of research points, gold and gems, with each level costing more to research. Your turn report will tell you what you can research and how much it costs to research. This will be displayed near the research points field of the report when you have enough points to research a level. Several levels of the same area can be researched in the same turn if the costs can be paid.
9.2 SPELLS
Once a magic area has been studied the player will be informed in their turn report of any new spells which they can now use. Spells become available for each area level obtained and sometimes for combinations of levels obtained.
For example, a player with Necromancy Level 2 and Summoning Level 2 may be able to cast a "summon spectre" spell. Part of the fun of the game is discovering spells as the player progresses. It also creates a further advantage in working with other players and sharing spell information. It is also worth noting that all spells will require a base number of GEMs (and extra gems per unit affected in some cases) to cast and a level of Spellcraft.
Spellcraft is the wizard's skill with the magic arts. Each spell has a spellcraft rating, one for easy spells through to ten for the hardest. Every wizard begins with a spellcraft rating of 8. This means the wizard may cast 8 Spellcraft 1 spells, 4 spellcraft 2 spells, etc per turn. To increase spellcraft above 8, wizards may use Research points to RESEARCH SPELLCRAFT. It will be listed as an option on your turn report when you have enough Research Points to do this.
Druid magic is different from other magics in that its PURE druidic spells require more than just gems to cast. They also require elemental objects, which are available in certain special places or may be created. Combination druidic spells do not require these objects. Necromancy spells require the player to have control of a shire containing a graveyard (special place) that has been successfully explored in order to cast them. Raised undead units created with pure necromancy (as opposed to combined spells) will appear in one of the wizard's graveyard shires (randomly chosen).
An important thing to note is that magic cannot be forgotten once researched, so if you choose to study dark magic you will never be able to research the druid magics and vice versa.
Another important note is that a spell can be cast as many times as the wizard likes once they have researched the spell. They just have to have enough gems to cast the spell each time and enough spellcraft points.
9.3 SPELL TYPES
The spells that you will have after researching are broken into a few different types. These are the following.
Combat Spell - These are used in conjunction with the SPELL order. They are used to set the combat spell of a hero. These are cast at the start of a battle if all the required conditions (such as enough enemies to warrant casting and enough gems) are met. This is the only spell type that doesn't use the wizard's Spellcraft (the exception being a wizard casting a combat spell when his capital is under attack). Instead it uses the spellcraft of the hero for whom the spell is set. A hero's Speelcraft is regenerated at the end of each battle.
Charm Spells - These spells are used to take partial control of the wandering monsters of WoW and send them into enemy's shires (they appear after movement and hence can not pin units).
Create Unit - This type of spell will create a unit through summoning or through necromancy. These units usually require gems as maintenance.
Create Object - This type of spell will create a specific artifact.
Hero Spell - A spell that the hero can have working all the time. This spell is canceled with the CANCEL order and is set with the CAST order.
Miscellaneous - This spell will carry out a particular task described in the spell book description that you will receive.
10. Orders
Orders are sent in response to turn reports the players receive. There are basically three types of orders: Global, City and Shire orders. Global orders are used to set options not directly involved in the game, such as specifying certain details the player's wishes to see on their turn report. City based orders are used to perform actions not related to a specific shire such as researching magic. Shire based orders are used to command the units, heroes and peasants inside each shire the player controls
The format for orders is;
Global Orders
City Orders
Each Shire's Orders
At the end of this section there is a sample set of orders that could be submitted. Each order has to be on the start of a new line and shire orders have to be under a shire number heading (SHIRE Shire_num). Global and City orders can be placed anywhere in the orders section although at the top makes the set out more clear.
Orders are to be sent in weekly. For the first few turns we will be checking to make sure no obvious bugs occur, but if we don't catch them, and you do please tell us as soon as possible. Rewards will be given, in terms of a mention on the game credits' bug fix page and with gold and other resources for your use in the game. The more subtle and dangerous the bug found the bigger the rewards. Be warned, if it is found that somebody has been exploiting a bug in the game, we reserve the right to send our demonic minions down into the realm of wizard's to wreak havoc upon your mortal and puny armies. We have some mighty units at our disposal, so be scared. We also offer rewards for player blurbs, news and player WoW web sites.
Note that wherever you type in a location, the form region,shire with no spaces between the comma should be used. Also note that any command parameter that is more than one word must be contained in "quotation marks". e.g. CAST "Sword of Flame" For all orders requiring a yes/no parameter the orders processor will accept (y,n,yes,no) as parameters. Also note that comments (anything following a semicolon on a line) and all leading and trailing spaces are stripped from your orders before processing and that everything is converted to uppercase, so it doesn't matter what case your orders are sent in as. One final note; placing a @ before a line will add this line to the template at the end of a players' next report. This is a time saving function for producing weekly orders from the template.
The orders syntax notes are as follows.
A line beginning with a Square is a command syntax line. An indented line beginning with a circle is an example line for (most likely) the syntax line above it. For the older browsers it is a solid circle for both. However it is fairly self-evident.
Any text in capitals is required text and specifies the type of order that is being issued.
For example HIRE <hero number> HERO
Any text within a <text> is a parameter and the text within the parameter will describe what information has to be placed here. Note that if any parameter you place on the command line contains a space then place it in "'s to ensure that it is still treated as one parameter.
Parameters that have their text broken up with / (forward slash) represent the different values that can be used with this command.
Any parameter that is <...> means that it is the same as the previous parameter type and that you can enter this parameter type as many times as you like.
Note that wherever it asks for xxxx type name e.g. unit type name, you can either place the full name of the item here or just the abbreviation of the item.
Any parameters of text in capitals that is enclosed within [] means that these are optional parameters and can be left out if not needed. An example is all the movement commands.
And now here are the orders:
10.1 GLOBAL ORDERS
These orders are used to change your general preferences about the game, and the way in which you will receive your report.
ABBREVIATIONS
This enables the player to chose whether a list of abbreviations is placed at the bottom of the turn report.


ABBREVIATIONS <yes/no>
ADDRESS
This order changes the address to which the player's turn reports are to be sent.


ADDRESS <email@address>

ADDRESS chris@wow.pbemgame.com
AUTOCONTROL
Units will automatically control any shires that they are in which are currently uncontrolled. When taking over a new shire, settings for that shire will reset to FEED 1, TAX l and DEFAULT production.


AUTOCONTROL <YES/NO>
CLIENTINFO
Setting this option to yes will cause an extra section to be added to your report. This section will include information on your empire in a format that will be used by other client applications. These applications will provide graphics interface of help generate your turn orders.


CLIENTINFO <YES/NO>
COMPRESS
Allows a player to have their report compressed and sent as a zip file attachment. When specifying Yes a message greater than size in kilobytes also needs to be specified. This range is from 0 to 4000KB. Setting a value of 0 will mean that all emails will be compressed. We recommend a setting around 30 to 150 would suit most people that wish to have their mail compressed.


COMPRESS <YES/NO> [<if greater than KB>]
DESCRIPTION
This enables the player to chose whether the players turn report will include extra spell book descriptions.


DESCRIPTION <YES/NO>
HEROSUMMARY
This enables the player to chose whether a hero summary is placed at the bottom of their turn report.


HEROSUMMARY <YES/NO>
PASSWORD
This order is used to change a player's password. It is important to note that the new password will not take affect until after the turn has been run, so any further submissions before the turn takes place should use the old password.


PASSWORD <new password>
TEMPLATE
This enables the player to chose whether the orders template is placed at the bottom of their turn report. If this order is set to yes, then an extra parameter can be supplied; this turns on and off detailed extra template information. The detailed extra template contains information such as troops present in each shire.


TEMPLATE <No>
TEMPLATE YES <yes/no>
10.2 CITY/WIZARD ORDERS
These are orders that control some of the player's key diplomatic and magic events within the player's city and empire as a whole.
ALLY
This order allows the player to declare another player an ally. The alliance will not take place until both players have declared each other an ally. Allied players may both have units in the same region and will fight together in all battles if there is a common enemy.


ALLY <player number> <yes/no>
BUY
This command is used to buy resources from the caravan, which is currently in your city. It will have no effect if there is no caravan in your city or if the caravan is not selling that resource. Note that you can specify the full resource name and not just the abbreviation.


BUY <amount to buy> <resource type>
CAST
This command is used to cast a non-combat spell. Some spells require extra parameters, which will be listed in their spell description.


CAST <spell name>
HIRE
This order is used to hire heroes or mercenaries who have offered their services.


HIRE <hero number> HERO [<hero name>]
HIRE 23 HERO

Would hire the hero that offered itself in your capital city.

HIRE <number of mercenaries> <mercenaries type>
HIRE 20 "Orc Wolf Riders"

Would hire 20 Orc Wolf Riders that offered themselves in your capital city.
RESEARCH
This order is used to spend research points studying a magic area level or to study to increase spellcraft. You must have enough research points for the order to be successful. In the case of Druid research just the discipline name is used for the magic area in the command line


RESEARCH <area>
RESEARCH SPELLCRAFT

RESEARCH Necromancy
RESEARCH Spellcraft
SELL
This command is used to sell resources to the caravan, which is currently in your city. It will have no effect if there is no caravan in your city. You will receive gold in exchange for the resource you wish to sell. You can only sell resources that the caravan is wishing to buy. Note that you can specify the full resource name and not just the abbreviation.


SELL <amount to sell> <resource type>
TOURNAMENT
This command is used to hold a tournament and offer prize money, in an attempt to lure heroes. A minimum prize purse of 1000 Gold must be offered to have any effect, and more prize money will further increase the chances of a hero offer. Note that all players will be notified of your tournament, it's prize purse and the position of the city in which it is held. Also note that other players holding tournaments detract from a wizard's chances of receiving a hero. Future tournaments require more prize money to have the same effect. You can only hold one tournament per turn.


TOURNAMENT <amount of gold offered>
TRADE
This order is used to transfer resources to another player. The target player must have a unit present at the destination location at ground level. The player issuing the order must either also have a unit at ground level (excluding charmed wandering monsters, summoned units, undead units, or heroes that are currently undercover) present at that location or at one of the shires exits of the location. Once this link has been established the two players may transfer any amount/type of resources from their city's global stock as they wish. If the required resources are not available the entire order will fail (the amount will not be adjusted to transfer the amount of that resource you do possess). This order only gives resources away. There is no guarantee that your trading partner will give resources in return.
Note: Ensure the DESTINATION LOCATION is owned by your trading partner, not yourself.


TRADE <resource amount> <resource type> <to player number> <destination location>

TRADE 200 IRN 14 125,1

Gives player 14 who has a unit present at 125,1, 200 Iron.
10.3 SHIRE ORDERS
These are the core orders of the game and are generally used within every shire of your empire.
ATTACK
This order is used to forcefully move into a shire battling any units already within or entering simultaneously. The shire to be attacked as well as the number and type of units to advance must be specified. To attack a shire units must be able to move to it. Taking off/tunnelling down or returning to the ground and attacking is done by issuing an attack or move order for the current shire. Multiple attack orders can be issued to add more units to your attacking force during the battle.
Note that units will only move to destination 2 if a battle does not take place at destination 1.


ATTACK <number> <unit type> <destination 1> [<destination 2>] [<destination 3>] [<...>]
ATTACK <hero number> HERO <destination 1> [<destination 2>] [<destination 3>] [<...>]
ATTACK <ship number> SHIP <destination 1> [<destination 2>] [<destination 3>] [<...>]

ATTACK 60 MIL 1,3

Attacks shire 1,3 with 60 militia.
BUILD
This order is used to put peasants to work building structures. The number of peasants and the type of structure to be built must be specified.


BUILD <building type> <resource type> <number of peasants>

BUILD Infirmary WOD 100
BUILD Infirmary STN 50

Would build 100 units of wood and 50 units of stone onto the infirmary using a total of 150 peasants. Note this order is restricted to shire 5 of any region.
CANCEL
The command is used to cancel a specific spell that a hero currently has activated.


CANCEL <hero number> <spell name>

CANCEL 4 "Fast Move"

Would cancel the fast move spell that hero 4 currently has activated.
CONSTRUCT
This order is used to create ships. It will only be available if the player has specific buildings, which will only be available in regions with an exit to an ocean shire. This order will only work in the region's central shire. The second form of the Construct order is so that if you have more than one exit to an ocean shire you can specify the shire within the building region that you want your ship to put to water at. Note: this shire has to be within the construction region and has to have an exit to ocean. If it doesn't then the order will revert to the first form of the order where it will pick a shire with an exit for you. Peasant labour is not needed for the construction of ships, but peasants are used as crew.


CONSTRUCT <ship type> <ship name> [<construction shire>]

CONSTRUCT "Battleship" "Titanic" 12,2

Will build a battleship and place it in shire 12,2 of that region that has an exit to the sea.
CONTROL
This order is used for a wizard to take control of a shire. Once a shire is under the player's control, the player may utilise its peasants and resources. Note that all the CONTROL no orders are processed before the CONTROL yes orders - this allows control of the shire to be transferred all in one turn to another player.


CONTROL <yes/no>

CONTROL Yes

Takes control of a shire.
DISBAND
This order is used to remove unwanted units from your pay roll. The number and type must be specified. A percentage of the units will return to become peasants in that shire, provided they are of the same race type. The stronger the unit type, the higher the proportion that will revert to peasants.

Note: When a hero is disbanded they will take all their army with them, so remember to transfer all units out of the hero's army first. Also note that a ship cannot be disbanded until it is empty. The order will fail until such a time. Finally, units can only be disbanded if they are currently in the ground state.


DISBAND <number> <unit type>
DISBAND <hero number> HERO
DISBAND <ship number> SHIP

DISBAND 20 hemil

Will disband 20 High Elf Militia from this shire and attempt to re-integrate them back into the population.

DISBAND 36 HERO

Will disband hero number 36.

DISBAND 21 SHIP

Will de-commission ship number 21.
DUEL
This order is used to give heroes experience, and to be used as a decision making tool. An example would be that if two wizards are allied and both occupy a shire, but they are unable to decide who should get control of the shire - they could send their heroes to the location to duel. The winner would then get control of the shire. The heroes do not die as a result of dueling; they just take up all their movement points for that turn. A hero cannot explore and duel in the same turn. Note that only one wizard is to issue the order. If both try then one of the reports will have an error saying that hero has already dueled this turn. Wizards may only duel while on land.


DUEL <hero number 1> <hero number 2>

E.g. DUEL 12 54

Will set up a duel between two heroes, hero 12 and hero 54.
EXPLORE
This command is used to instruct a hero to enter a special place contained in the shire he/she is currently in. A hero cannot explore as well as move or duel in the one turn. The hero number must be specified. There are three options that can be associated with hero exploring. Those are cautious, normal and bold. If nothing is specified normal is assumed. Also if an unknown explore mode is specified it will default to Normal. When exploring cautiously a hero's chance of dying is 0%, their chance of successfully exploring however is reduced by 50%. On the other hand if the hero explores boldly they have a 50% more chance of successfully exploring the site, they also have a 50% more chance of dying if they still fail to explore the special place.
When a hero fails to explore a special place it will mention all the tests that the hero happened to fail and what the heroes chance of dying was for that particular time. This information will help you to decide if the risk is worth exploring boldly next time or if it is going to require a more powerful hero to come and explore the special place. One important thing to note is that there can be many tests to pass for each special place. The system will only report those tests that the hero fails.


EXPLORE <hero number> [<CAUTIOUS|NORMAL|BOLD>]

EXPLORE 2 BOLD

Will send hero number 2 boldly into the special area at their current location.
ENSLAVE
This order is used to enslave the peasants of a shire forcing them to work. Read the guidelines on Enslaving in section Peasants.


ENSLAVE

ENSLAVE

Will enslave the peasant population in the shire.
FEED
This order is issued to direct the number of food units to be given to each peasant in a shire. The default is 1. The maximum amount you can feed per peasant is 5 food units. Feeding with a value of 0 will cause people to starve to death.


FEED <feed amount>
FLYATTACK
This is used in the same way as FLYMOVE with the difference being that the unit will battle any enemy flying units encountered, rather than be blocked. Note, if you need to take off from the ground first then the destination 1 parameters should be the shire that you are issuing the order from. To land the flying units just place the Ground parameter at the end of your orders.


FLYATTACK <number> <unit type> [<destination 1>] [<destination 2>] [<destination 3>] [<...>] [GROUND]
FLYATTACK <heronumber> HERO [<destination 1>] [<destination 2>] [<destination 3>] [<...>] [GROUND]

FLYATTACK 12 "Birds of Prey" 1,2

Will attack shire 1,2 with 12 birds of prey.
FLYMOVE
This is used for flying units to take off from the ground and move through the air. Note, if you need to take off from the ground first then the destination 1 parameters should be the shire that you are issuing the order from. With the fly move order you will not be able to reach the destination if an enemy is present. To land the flying units just place the Ground parameter at the end of your orders.


FLYMOVE <number> <unit type> [<destination 1>] [<destination 2>] [<destination 3>] [<...>] [GROUND]
FLYMOVE <heronumber> HERO [<destination 1>] [<destination 2>] [<destination 3>] [<...>] [GROUND]

FLYMOVE 34 "Birds of Prey" 1,3 Ground

Will move 34 Birds of Prey to 1,3, and then land.
FREE
This order is issued to return enslaved peasants to their normal state. They will have a morale of zero just after being freed.


FREE

FREE

Returns an enslaved population back to normal.
GIVE
This order is used to give units, heroes, or ships to another player. To give to another player, you must have a unit (excluding charmed wandering monsters or heroes that are currently undercover) in the same shire as the target player. Giving a ship to another player does not change the owner of the heroes and units on board the ship. These have to be transferred on land to the other player.

In the Syntax below: The player number is the player you are transferring the unit, hero or ship to. The three types of give orders take place in a common shire. Both players have to have a representative present to supervise the transaction. Note that it is not possible to give units or heroes directly to another player if they are currently on board a ship. All flying and tunneling units that you wish to give to another player have to be on the ground before the transaction will work.


GIVE <number> <unit type> <player number>
GIVE <hero number> HERO <player number>
GIVE <ship number> SHIP <player number>

GIVE 34 "High Elf Militia" 6

Gives 34 High Elf Militia to player 6 in the current shire.

GIVE 23 HERO 7

Gives hero number 23 to player 7 in the current shire.

GIVE 10 SHIP 8

Gives ship number 10 to player 8 in the current shire.
INFO
This order is used to get information about different unit types, heroes, ships and artifacts. The unit and artifact forms of this order will accept either the name (exactly as it appears in the report) or the abbreviation for the unit or artifact. The information returned will be along the lines of offence, defence, movement and a few other details specific to the item that you request information on.
You often have to issue the info order in the shire where the object you want info is located. For eample to get info on a Tundra land type you must have a presence in a Tundra region and be issuing the order from that shire. Getting information on a terain type you must specify the terrain name, Desert, Plains Volcanic and so on.


INFO <unit type name> UNIT
INFO <building type name> BUILDING
INFO <hero number> HERO
INFO <ship number> SHIP
INFO <artifact type name> ARTIFACT
INFO <race type name> RACE
INFO <terrain type name> TERRAIN

INFO "High Elf Militia" UNIT

Will return general information about the High Elf Militia.

INFO church building

Will return information such as construction cost and bonuses of the church building.

INFO 23 HERO

Will return status information on Hero Number 23.

INFO 36 SHIP

Will return status information on Ship Number 36.

INFO "Tryvorn Lance" ARTIFACT

Will return information about the Tryvorn Lance artifact and what it can do.

INFO Plains TERRAIN

Will return information on plains such as defensive bonuses and Movement Points (MP) required to move through.
MOVE
This order is used to move units from one shire to another. The shire you wish to move to first must be specified in the turn report as an exit from the shire the unit is currently in. Taking off/tunnelling down or returning to the ground is done by issuing a move order for the current shire.


MOVE <number> <unit type> <destination 1> [<destination 2>] [<destination 3>] [<...>]
MOVE <hero number> HERO <destination 1> [<destination 2>] [<destination 3>] [<...>]
MOVE <ship number> SHIP <destination 1> [<destination 2>] [<destination 3>] [<...>]

MOVE 40 MIL 4,2

Moves 40 militia to shire 4,2
Note, it is not possible to issue multiple move orders to the same unit from different shires: you cannot have in the SHIRE 4,1 orders move cavalry to 4,2 and in the SHIRE 4,2 orders move the same cavalry to 4,3. The full move has to be specified in the starting location.
NAMEHERO
This order allows the player to name any heroes they have hired. This order also allows you to change your wizard's name. Set the hero number to 0 and your wizard will have their name changed. Remember that these are shire orders! Thus if you wish to rename your wizard then the order must be placed under your city shire.


NAMEHERO <hero number> <new hero name>

NAMEHERO 10 "Vonblack the Destroyer"

Would name hero 10 Vonblack the Destroyer.

NAMEHERO 0 "Joran Darksword"

Would name the wizard Joran Darksword.
NAMESHIP
This order allows the player to name any ships they have built.


NAMESHIP <ship number> <new ship name>

NAMESHIP 13 "Dreadnought"

Would name ship 13 Dreadnought.
PILLAGE
This command is used to instruct troops to decimate a shire doing long term damage to its population but reaping a large amount of resources as booty. The player receives double the maximum amount the peasants could produce of EACH resource. After this occurs each peasant has an 85% chance of dying and morale automatically drops to 0. Note the same requirements as ENSLAVE (1 point of troop offence for every 5 peasants) apply.


PILLAGE

PILLAGE

Will cause the shire to be pillaged.
PRODUCE
This order is used to instruct peasants to produce resources. The number of a particular resource each peasant can produce is listed in the turn report. The number of peasants producing and the type of resource produced should be specified. If the number_of_peasants parameter is left blank then this will become the default production and all available peasants will be used to produce that resource. If in the example below there were 350 peasants available, then 300 peasants would produce FOOD and 50 would produce IRON.


PRODUCE <resource type> [<number of peasants>]
PRODUCE <default resource type>
PRODUCE NONE

PRODUCE FOD 300

Uses three hundred peasants to produce food in the shire.

PRODUCE IRN

Changes the default resource to be produced to the one specified, IRN. Uses all unused peasants to produce iron in the shire each turn until the default is changed.

PRODUCE NONE

Clears all preset produce orders, both specific and default. If no further orders are given the program will then go and find the highest shire resource and set that as default to be produced from this turn onwards.
Notes: You do not need to re-issue the orders each turn. The game will remember your settings between turns. Hence if you forget to send in orders your production settings are remembered and they are produced again (That is the main reason for the implementation of these new features). Default Production is reset to NONE when a new player takes control of a shire.
The specified resources (for orders that have a specified peasant amount) are produced in order of importance. E.g. Food, wood, stone, iron, gems mithril, Then the default are executed after that if there are any peasants left. The resource that will be produced by default is indicated by a '*' on the turn report.
So for the following orders
produce irn 6
produce stn
produce gem 5
produce wod 10
produce fod 7

it would be executed as;

produce fod 7
produce wod 10
produce irn 6
produce gem 5
produce stn
If in the above example, the shire runs out of available peasants at the produce wod order and only 5 peasants are available, only the 5 are used to produce wood. The remaining orders then fail. However the settings are not changed, so next turn when there may now be peasants available (due to not issuing a build order or perhaps because of pop growth.) the full produce wod 10 is executed along with the other orders in a subsequent fashion.

Further note that the Produce Default order (e.g. PRODUCE WOD) only changes the default production it does not clear the specific produce (e.g. PRODUCE STN 50) orders you may have set the previous turn. You need to issue PRODUCE NONE to clear any specific ones that are set. e.g. PRODUCE NONE PRODUCE WOD Will clear all other specific produce orders and just set wood to be produced
RECRUIT
This order is used to create new units in the capital city or a town. The units will only be recruited if you have enough free peasants and resources to create the requested amount.


RECRUIT <number> <unit type>

RECRUIT 10 MIAXE

Would create 10 Minotaur Axemen.
SPELL
This order is used to set a spell for the wizard to cast through a hero every time they enter combat. The wizard must have a spell in his spell book before it can be set as a hero's combat spell. The number of enemies to be faced before the spell is cast can also be set. This is a useful method of conserving gems. For example, if an army of 1000 runs across an enemy scout, it is not really worth expending 100 gems for a fireball that could take out 50 enemy. Ensure when you set the hero combat spell that the hero has enough spellcraft points to be able to cast that particular spell. This order will fail if the hero does not have enough spellcraft points.

If you wish your heroes to cast their spells in a particular order you can also set a cast order number between 1 and 3. A hero with cast order 1 will cast a combat spell before another hero of the same or allied wizard with cast order 2 set. NOTE: This does not in any way affect initiative or who gets to cast spells first out of a wizards hero and the enemies. If a wizard has the initiative, all that wizards and allies heroes will cast spells (even with cast order 3) before the enemy heroes get a chance.

NOTE: A enemy hero or ship is counted as 50 enemy for determining when to cast a spell.

If you are trying to set the combat spell for your player's wizard then you must specify a <hero number> of 0. You must also place the order under your city shire orders. Note that the wizard will only cast the combat spell against enemies who are attacking the wizard's city.



SPELL <hero number> <spell name> [<number of enemies>] <cast order>
SPELL <hero number> NONE

SPELL 3 "Magic Missile" 40 1

Would allow hero number 3 to cast a magic missile spell every time the hero entered combat and encountered 40 or more enemy units. The heroes spell will be cast before any heroes with cast order 2 or 3.

SPELL 3 NONE

This will clear the combat spell that the hero had set.

SPELL 0 "Wizard's Curse" 200 2

This will set the player's wizard's combat spell to "Wizards Curse", that it should only be cast if there are 200 or more enemy trying to take over the wizards city and will be cast after all heroes with cast order 1 have cast there spells.
TAX
This order allows you to set the tax rate for a shire. The options are N, L, M or H to specify None, Low, Medium or High respectively.


TAX <level>

TAX High
TAX M

Both examples are valid formats to set the tax.
TRANSFER
This order is used to transfer units and artifacts between heroes and ships. Rmember that ships have a maximum capacity and that foot units count as one while wandering monster, mounted, units with flying or tunneling movement and heroes count as two. Also with all transfers ensure that if you are transfering the same item in multiple transfers make sure you get the sequence of orders correct.


TRANSFER <number> <unit type> <hero number> HERO

Transfer units to the hero's army.

TRANSFER <hero number> HERO <number> <unit type>

Transfer units from the hero's army.

TRANSFER ARTIFACT <from hero number> <amount> <artifact type> <to hero number>


Transferring artifacts from one of a wizard's heroes to the wizard or back again costs 20 Gems per item if the hero is not in the capital city. To perform a transfer to/from the wizard use the hero number 0. If transferring from one hero to another hero directly then both must be in the same shire. If you are transferring from one hero to another hero and they are not in the same shire you must transfer the artifact in two steps via the wizard (hero 0). To do this in the one turn the shire with the "from" hero must appear in your orders file before the other hero. This may mean a bit of cutting and pasting in your orders. Ensure that no matter what direction the transfer is going, the order must appear under the shire where the hero involved is located.
Artifact transfers cannot occur whilst the hero is aboard a ship. If at land, then transfer the hero off the ship, transfer the artifact, then transfer the hero back onto the ship.
Artifact transfer cannot occur whilst the hero has any special spells active. The magical field of these spells inhibits the ability to transfer artifacts. Deactivate them first then perform the transfer, then recast the spell the following turn.
To transfer artifacts between players, heroes owned by the different wizards must be in the same shire and both heroes must be visible (not undercover).
This is an example of a hero to wizard to hero transfer: Hero 1 is in Shire 5,3 and hero 2 is in Shire 6,4, they want to transfer a MSW - Magic Sword between them. This is the way the orders would have to appear in the orders file sent in.
Shire 5,3
Transfer ARTIFACT 1 1 MSW 0
Shire 6,4
Transfer ARTIFACT 0 1 MSW 2

TRANSFER <number> <unit type> <ship number> SHIP
TRANSFER <ship number> SHIP <number> <unit type>

Transfer units from the ship

TRANSFER <hero number> HERO <ship number> SHIP

Transfer hero and army to ship.

TRANSFER <ship number> SHIP <hero number> HERO

Transfer hero and army from ship.

TRANSFER 12 hemil 12 HERO

Will transfer 12 High Elf Militia to hero number 12.

TRANSFER 12 SHIP 34 HERO

Will transfer hero 34 from ship 12 to the current shire.

TRANSFER ARTIFACT 12 4 "Sword of Flame" 0

Will transfer 4 swords of flame from hero 12 to the player's wizard in their capital city and will cost 80 gems.
TUNNELATTACK
This is used in the same way as TUNNELMOVE with the difference being that the unit will battle any enemy Tunnelling units encountered, rather than be blocked. Note, if the first destination is the same as the starting location then the unit will leave the ground state and tunnel into the ground at that location, it can then move off from there to other locations. Also note that the unit will stop moving once a battle takes place. To place the units back on the surface add the Ground command to the end. Note that they will only make it to the surface if they have enough movement points left.


TUNNELATTACK <number> <unit type> [<destination 1>] [<destination 2>] [<destination 3>] [<...>] [GROUND]
TUNNELATTACK <heronumber> HERO [<destination 1>] [<destination 2>] [<destination 3>] [<...>] [GROUND]


TUNNELATTACK 13 "Worms" 1,5 Ground

Will attack shire 1,5 with 13 worms
TUNNELMOVE
This is used for Tunnelling units to dig down and move under the surface. If the first destination is the same as the starting location then the unit will leave the ground state and tunnel into the ground at that location. It can then move from there to other locations if they are not occupied. To place the units back on the surface add the Ground command to the end. Note that they will only make it to the surface if they have enough movement points left.


TUNNELMOVE <number> <unit type> [<destination 1>] [<destination 2>] [<destination 3>] [<...>] [GROUND]
TUNNELMOVE <heronumber> HERO [<destination 1>] [<destination 2>] [<destination 3>] [<...>] [GROUND]


TUNNELMOVE 12 "Worms" 1,4 1,3

Will move 12 worms from current shire to 1,4 and then onto 1,3 if it is unoccupied.
11. Turn Report

11.1 EXAMPLE
To: "David	Harris"	
From: "WOW GAME	MASTER"	
Subject: WOW GAME 15 TURN 0 REPORTS
----------------------------------------------------------------------
WAR OF THE WIZARDS. GAME 15 TURN REPORT	0. FOR WIZARD Mad Harry.
***************************************************************
PLAYTEST OBLIGATIONS.
*********************
   This	is a playtest and hence	is FREE.
   Your	obligations as a play tester are the following:
   - Find any bugs in the system, for which you	will get rewards.
   - Find any spelling mistakes, for which you will get	rewards.
   - Point out any errors or ambiguities in the	rules or supporting
     web pages,	for which you will receive rewards.
   - Let us know of any	ways that we can make the game simpler and
     easier to use.
   - Also, to let us know if you have suggestions on how to make the
     game better. Holding in mind the point mentioned above.
   - To	let us know immediately	of any problems	you are	having with
     the game or other players.
   - To	have fun playing War of	Wizards.
**********************
CURRENT	GAME SETTINGS.
**********************
Include	Abbreviations Listing	  : Yes
Include	Spell Descriptions	  : Yes
Include	Hero Summary		  : No
Include	Orders Template		  : Yes	   Detailed : No
Auto Control Uncontrolled Shires  : No
Include	Info For Client	Programs  : No
Compress Game Emails		  : No
REPORTS	OF BATTLES THAT	OCCURRED THIS TURN.
*******************************************
 * No Battles This Turn.
ERRORS THIS TURN.
*****************
 * No Errors.
EVENTS THIS TURN.
*****************
 * No Events This Turn.
PLAYER'S TURN REPORT.
*********************
WIZARD'S NAME	   : Mad Harry
WIZARD'S CITY NAME : Demons Pass
CITY LOCATION	   : (71,5)
CASTLE LEVEL	   : 1
CURRENT	ALLIES	   : No	Allies Set.
MILITARY RATING	   : 250 (33rd)
MAGIC RATING	   : 30	(35th)
ECONOMIC RATING	   : 44	(24th)
POLITICAL RATING   : 1 (37th)
YOUR EMPIRE RATING : 70	(25th)
SEASON		   : The season	of year	0 is currently Winter and the
		     season will change	to Spring of year 1 next turn.
SPELLCRAFT POINTS  : 8
RESEARCH POINTS	   : 0
MAGIC LEVELS	   : No	Magic Levels Researched.
SPELL BOOK SUMMARY : Do	Not Know Any Spells.
WIZARD'S RESOURCES : RESOURCE	 -    CURRENT	      OUT	  IN
		     Gold	 -	 1500		0	   0
		     Food	 -	  800		0	   0
		     Wood	 -	 1500		0	   0
		     Stone	 -	  500		0	   0
		     Iron	 -	  300		0	   0
		     Gems	 -	  100		0	   0
		     Mithril	 -	    0		0	   0
WIZARD'S ARTIFACTS : (No Artifacts)
COMBAT SPELL	   : No	Combat Spell Set.
SPECIAL	CITY EVENTS
*******************
HEROES ON OFFER	   : No	Heroes On Offer	This Turn.
MERCENARY OFFERS   : No	Mercenaries For	Hire This Turn.
CARAVAN	OFFER	   : No	Caravan	Arrived	In The City This Turn.
PLAYER'S MAP SHIRE STATUS REPORTS.
*********************************
CAPITAL	CITY SHIRE REPORT
SHIRE :	(71,5) REGION TYPE : Arctic. REGION NAME : Demons Pass
REGION DESCRIPTION :  This group of dwarves have formed	a city upon the
		      legendary	battlefield of the Demon Wars.	Its tall
		      spires are said to be magically enhanced by the
		      demons' blood of centuries past.
RACE : Hill Dwarves. POPULATION	: 300(61)  CONTROLLING WIZARD :	Mad Harry.
TAX RATE : Low.	FEED RATE : 1  MORALE :	2.20
CITY BUILDINGS :
   Castle Level	1     :	Basic Castle.
   Town	Hall	      :	The centrepiece	of any community, the hall
			founds the town	and hence allows other
			buildings to be	constructed around it.
*  Buildings that can be built at this location.
     BUILDING NAME  RESOURCE BUILDING COST.
     Blacksmith	    (Gold:800 Wood:200 Stone:200)
     Church	    (Gold:1000 Wood:300	Stone:500)
     Docks	    (Gold:500 Wood:100 Stone:50)
     Granary	    (Gold:300 Wood:300 Stone:200)
     Infirmary	    (Gold:500 Wood:200 Stone:200)
     Inn	    (Gold:800 Wood:300 Stone:200)
     Library	    (Gold:1800 Wood:200	Stone:500)
     Lumber Mill    (Gold:600 Wood:600 Stone:50)
     Market Place   (Gold:600 Wood:200 Stone:200)
     Moat	    (Gold:1300 Wood:200	Stone:300)
     Paths	    (Gold:500 Wood:50)
     Tavern	    (Gold:400 Wood:150 Stone:50)
     Well	    (Gold:600 Wood:200 Stone:200)
*  Units that can be recruited from this location.
     UNIT NAME		    ATTRIBUTES	    - RESOURCE COST PER	UNIT.
     Hill Dwarves Militia   [M:1 O:1 D:2]   - (Gold:10)
     Hill Dwarves Spearmen  [M:1 O:1 D:3]   - (Gold:10 Wood:10)
SHIRE RESOURCES	: Food:2 Wood:1	Stone:2	Gems:1
SHIRE EXITS
 - (71,1) (71,2) (71,3)	(71,4)
SHIRE REGION EXITS
 - No Region Exits.
GROUND UNITS
 - Mad Harry (1)       : (Hill Dwarves Militia:50) 
SPELL DESCRIPTIONS REPORT.
**************************
No Spells to Display.
ABBREVIATIONS DETAILS.
*********************
  *  Unit Abbreviations
     ABBREV  UNIT NAMES	AND ATTRIBUTES
     HDMIL   Hill Dwarves Militia		     [M:1 UT:O O:1 D:2 A:1 H:1]
	     COST : (GLD:10)			    MAINTENANCE	: (GLD:2 FOD:1)
     HDSPE   Hill Dwarves Spearmen		     [M:1 UT:O O:1 D:3 A:1 H:1]
	     COST : (GLD:10 WOD:10)		    MAINTENANCE	: (GLD:2 FOD:1)
  *  Ship Abbreviations
     ABBREV  SHIP NAMES	AND ATTRIBUTES
     No	Abbreviations To Display!
  *  Building Abbreviations.
     ABBREV  BUILDING NAMES
     BKS     Blacksmith			       [COST : GLD:800 WOD:200 STN:200]
     CA1     Castle Level 1			     [COST : Special - No Cost]
     CHR     Church			      [COST : GLD:1000 WOD:300 STN:500]
     DOC     Docks				[COST :	GLD:500	WOD:100	STN:50]
     GRA     Granary			       [COST : GLD:300 WOD:300 STN:200]
     INF     Infirmary			       [COST : GLD:500 WOD:200 STN:200]
     INN     Inn			       [COST : GLD:800 WOD:300 STN:200]
     LIB     Library			      [COST : GLD:1800 WOD:200 STN:500]
     LMI     Lumber Mill			[COST :	GLD:600	WOD:600	STN:50]
     MAR     Market Place		       [COST : GLD:600 WOD:200 STN:200]
     MOA     Moat			      [COST : GLD:1300 WOD:200 STN:300]
     PAT     Paths					[COST :	GLD:500	WOD:50]
     TAV     Tavern				[COST :	GLD:400	WOD:150	STN:50]
     TOW     Town Hall			      [COST : GLD:1000 WOD:450 STN:450]
     WEL     Well			       [COST : GLD:600 WOD:200 STN:200]
  *  Spell Abbreviations.
     ABBREV  SPELL NAMES
     No	Abbreviations To Display!
  *  Artifact Abbreviations.
     ABBREV  ARTIFACT NAMES
     No	Abbreviations To Display!
ORDERS TEMPLATE	FOR NEXT TURN.
******************************
#WOW ORDERS 15 1 secret_password 1
; GLOBAL ORDERS	& CITY/WIZARD ORDERS
; CITY SHIRE ORDERS.
SHIRE 71,5	   ; REGION : Arctic - Demons Pass.
; Resources: F2	W1 S2 G1     Settings: FR:1 TR:L CT:Y POP:300(61) M:2.20
#END

11.2 EXPLANATION
For each shire you have one or more units in, you will receive shire information in your turn report. This will include:

a description of the shire
the wizard who controls the shire
the other shires in the current region that you can travel to
other regions which you can reach from the shire you are currently in
the number of peasants in the shire
the resources of the shire
a list of all units in the shire including allied units
special places (if present)
if a city or town, the units and building types able to be created are also included.
11.3 SCOUTING
If you happen to have a scout in the current shire you will also receive the following additional information;
Connecting Shires and Regions Land Type · If the destination is controlled by you, an ally, the enemy, wandering monster/s or uncontrolled. · The number of the units at the location. · The number of wandering monsters inside a special place. Scouting reports only apply to ground level.
The accuracy of scout reports is determined by the number of scouts in the shire and is given as a percentage.

11.4 ATTRIBUTE EXPLANATIONS
At various stages in the report there are different attributes shown in the report in an abbreviated form. An example below is of a particular unit from the abbreviation report. These abbreviations mean the same throughout the entire report.
AMTRI	Amazons	Tribesmen	   [M:1	UT:O O:1 D:2 A:1 H:1]

M - Movement.
WM - Water Movement.
FM - Flying Movement.
TM - Tunnelling Movement.
UT - Unit Type.

W - Wandering Monster/Charmed Units.
S - Summoned Units.
U - Undead Units.
H - Hired (mercenary) Units
O - Ordinary Units

O - Offence.
R - Ranged Offence.
D - Defence.
A - Attacks.
H - Hit Points.
BP - Battle Position

R = Ranged Attack Position
S = Ship Attack Position
G = Go Anywhere Units Attack Position (Flying and Tunneling)
M = Mounted Attack Position
F = Foot Attack Position
B = Behind Attack Position
Military Units Template Abbreviations
S = Ship
H = Hero
G = Ground
T = Tunneling
F = Flying
Ships can also have some of the following attributes.
HP - Number of times the ship has to be successfully attacked before it will sink.
FIS - The fishing ability of the ship.
CAP - The carrying capacity of the ship.
In shires the following are used i.e., FR:1 TR:M CT:Y POP:81 M:1.39 ;
FR - Feed Rate.
TR - Tax Rate
CT - Control
POP - Population
M - Morale
12. Turn Sequence
The program that generates your reports carries out all the particular orders of the same type for all players. e.g. All Attack Orders are carried out before the taxing of people is performed. Below is the sequence in which orders are processed. This is sometimes quite useful to know!
For example, move orders are carried out before a battle takes place, letting one player move in reinforcements if they know they are going to be attacked that turn.
ORDERS OF EVENTS
Instant Orders
ADDRESS ORDER
TEMPLATE ORDER
PASSWORD ORDER
DESCRIPTION ORDER
ABBREVIATIONS ORDER
AUTOCONTROL
COMPRESSEMAIL
Other Orders
REWARDS EVENT
SELL ORDER
BUY ORDER
ALLY ORDER
TRADE ORDER
HIRE ORDER
CAST UNIT SPELLS ORDER (All the focusing and create unit type spells. - Note that charmed units do not appear yet, all other units do though. See below for where they actually appear.)
RECRUIT ORDER
TRANSFER ORDER
DISBAND ORDER
GIVE ORDER
NAMESHIP ORDER
CANCEL ORDER
NAMEHERO ORDER
SPELL ORDER (Sets the combat spell which heroes will cast if involved in combat.)
CAST SHIELD SPELLS ORDER (All spells which try to raise a shield of some sort over a region or shire.)
CAST OTHER SPELLS ORDER (All remaining spells are cast.)
INFO ORDER
DUEL ORDER
EXPLORE ORDER
TOURNAMENT ORDER
Movement and battles
ATTACK ORDER
FLY ATTACK ORDER
TUNNEL ATTACK ORDER
MOVE ORDER
FLY MOVE ORDER
TUNNEL MOVE ORDER
NON-OWNED WANDERING MONSTER MOVE ORDERS GENERATED
MOVE EVENT
CHARMED MONSTERS APPEAR NOW.
BEAST MASTER ATEMPTS TO CONTROL WANDERING MONSTERS.
BATTLES EVENT
VANQUISH DEFEATED WIZARDS EVENT
After Battle Related Orders
CONTROL NO ORDER
CONTROL YES ORDER AND AUTOCONTROL EVENT
FREE ORDER
ENSLAVE ORDER
PILLAGE ORDER
RESEARCH ORDER (Research orders are carried out with RP deducted for the magic levels gained.)
CONSTRUCT ORDER
BUILD ORDER
PRODUCE ORDER
ALL PRODUCTION EVENTS CARRIED OUT
TAX ORDER
TAX EVENT
FEED ORDER
End of Turn Processing Events
MAINTENANCE EVENT
FEED EVENT
BATTLE DEATHS EVENT
PILLAGE DEATHS EVENT
MORALE CALCULATION EVENT
POPULATION GROWTH EVENT
WANDERING MONSTER GROWTH EVENT
RESEARCH EVENT (RP are accumulated through their various sources and added to current RP total.)
HERO OFFERS EVENT
MERCENARY OFFERS EVENT
CARAVAN OFFERS EVENT
RANDOM EVENTS
Special Hero Processing
HERO SPECIALS EVENT
ESPIONAGE SPECIALS HERO EVENT
HERO LEVEL INFO EVENT
Calculate Advisors Report
TOTAL POPULATION ADVISORS REPORT
MAINTENANCE ADVISORS REPORT
PRODUCTION ADVISORS REPORT
TAX ADVISORS REPORT
FOOD ADVISORS REPORT
BUDGET ADVISORS REPORT
AI ORDER GENERATION
13. Score
Contained in your turn report will be a score. This will be divided into Military, Political, Magic and Economic as well as a total score. There will also be a list ranking all players according to the score. The score has no impact on the game at all. It is just so players can see how they are fairing and to feed the egos of those who are doing well. The score is based on a multitude of factors including the amount of controlled land, your castle, buildings, leadership of heroes, magic researched, cities, special places conquered and by other special events occurring during the game.
The Hall of fame for the champions of each game is shown from another link at the main page.
14. The Races Of WOW
These are the races that can be found in any game of WOW.

AMAZONS
Amazons are a race of jungle dwelling warriors. Both their males and females are the fittest of nearly all humans. The Amazonian cities blend almost perfectly into the jungle. The amazons are formidable opponents, especially in there own territory. Poison darts seem to fly from naught but trees at any that enter their domain.

DARK ELVES

From deep in the underworld, the dark elves have recently resurfaced. Splitting from their high elven cousins many millenniums ago, the two are now almost as separate as humans and gnomes. The slim build, dark complexion and white hair of this race makes any dark elf stand apart from all others. Their society, dominated by female priests, is one which revolves around combat and treachery.

DERVISHES

The Dervishes are nomadic tradesmen of the desert. They converse with all races yet can also stand alone against any.

GNOMES

Gnomes are small demi-humans known especially for their weird and wonderful inventions. Another peculiar trait is their fast and continuous speech.

HALFLINGS

The Halflings are a joyful race of small demi-humans. Known for their lack of height and hairy toes, Halflings form together in towns known as shires. The Halflings favourite territory is hills, which they build their burrow homes in. The relaxed life style of the Halflings can be vigorously defended when threatened. Halfling slingers and pony riders may quickly be gathered to repel any unwelcome visitors.

HIGHLANDERS

Highlanders are a human race who love the crisp air of the hills and mountains. They live a very traditional lifestyle, residing in clans. They are fierce warriors and wars between the clans frequently flare up. Their religion is two fold, believing in one god but also that the world also possess lesser gods known as the chosen ones. These chosen are virtually immortal barring complete decapitation. The immortals are both revered and feared, never accepted by any of the clans and forced to live in secrecy or wander the earth eternally.

HILL DWARVES

Hill Dwarves are renowned everywhere for their skill as weapon smiths. The short stocky race also has a passion for forging the earth's minerals into many types of objects and artifacts.

HIGH ELVES

The High elves are one of the most ancient and noble races. Long flowing blond hair, sharp facial features and a slight build are the characteristics that make this race stand apart. The architecture of the elven cities is something many a traveller has journeyed to see in safer times, but now that troubled times approach, the cities will be seen as defensive strongholds rather than places of great aesthetics.

ICELANDERS

Choosing to live in the frozen regions, Icelanders have learnt to use the elements of arctic terrain to their upmost advantage. Riding Mammoths into war and building defences of ice, little can stop an Icelander army fighting in their home terrain. The communities generally live peacefully however, hunting and fishing the lands to gain food and skins to protect themselves from the cold.

LIZARDMEN

The unique Lizardmen are one that is feared due to both legend and apperance. The tall warriors of the race wield weapons with strength and precision while the lash of a tail gives them an extra avenue of attack. The trident and javelin troops alone would form an army requiring strong forces to resist. These troops pale in comparison to the Lizardmens most powerful weapon. The Chameleon Assasins. These warriors are almost impossible to spot before cold steel through the heart alerts one to their prescence. Apart from their strong array of troops, very little is known of this strange race.

MINOTAUR

Minotaurs are clearly one of the most fearsome races to frequent Varlania. Their culture, revolving around the warriors, ensures that only the strongest survive. Standing 8 to 10 feet tall with a bull's head atop a human torso they intimidate any they meet in battle.

OGRES

Ogres are a brutal race of large humanoids. Although not known for their intelligence, they can produce a rare cunning that has brought the demise of many opponents. Their general lack of Intellect, combined with a powerful frame, far stronger than the average mans, makes this race a popular choice to be coerced into war by manipulative villains. The Ogre race is divided into classes with the lowly Snotlings doing the most menial of tasks. This class system is almost entirely based on physical size with Snotlings being far smaller than standard Ogres, who are in turn dwarfed by the Chieftains. Ogres prefer to reside in the Mountains where they fight at their best.

ORCS

These evil creatures are renowned for their ruthlessness and lack of compassion.

PLAINSMEN

Plainsmen live off the land of their home region. They are tribal in nature and manage to exist in harmony with both animals and nature.

SANDPEOPLE

The Sandpeople are a mysterious race of desert dwellers. Few know how they survive in such a barren environment or how their society functions. The only contact others seem to have is having caravans raided under the cover of sand storms. These people seem to appear and disappear into the sand itself.

UNDER DWARVES

Under Dwarves are stocky demi-humans who spend the majority of their time in the tunnels and caverns. They are masters of obtaining the ground's wealth, and mine in constant pursuit of the sacred metal Mithril.
---